For every phobia, a philia: a glimpse into the layered histories of Gangnam's plastic surgery economy.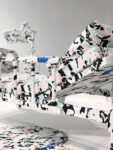 GOING FLUID, COZY CRUSADE
Date
2019
Category
Installation
Location
The Seoul Museum of Art (SeMA). Seoul, Korea
Going Fluid: Cozy Crusade follows up on earlier research presented at the 3rd Istanbul Design Biennial: Are We Human? The installation—commissioned by curator Hyejin Kim at the Seoul Museum of Art—compresses three crucial moments of the development of Gangnam's plastic surgery culture. Firstly, it considers beauty bloggers' contemporary engagement in shaping the district: activity that has positioned influencers' and bloggers' bedrooms as sites in a new cosmetic agora. These spaces are where past, present, and future Gangnam patients meet, negotiate, and consider past, future, and hypothetical bodily updates and revisions.
Secondly, the project reflects on Seoul of the late 1990s and early 2000s: a period marked by the consolidation of plastic surgery towers between Gangnam and Sinsa subway stations. During a moment which observed the construction of a large number of plastic surgery skyscrapers of this district, Cyworld Virtual Homes (1999), Daum Cafe (1999) and Naver Knowledge Search (2002)—the first Korean social media services based on the construction of an avatar or a new self—as well as Youtube (2005) and Facebook (2006), became part of daily life for millions of South Koreans. The first instance in which large numbers of people could effectively design their own online persona corresponded with the provision of affordable and widely available plastic surgery procedures for the re-construction of the self.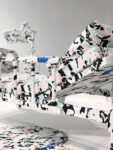 Thirdly, the installation troubles the origins of the Korean plastic surgery industry, which traces its beginnings to wounded bodies of the Korean War. In the 1950s, American reconstructive surgeon Doctor Ralph Millard began a program of physiognomic reconstructions on survivors of the conflict, which led to the development of new procedures not rooted in an ethos of repair or reconstruction, but of a colonial desire for "enhancement" of his many Korean subjects. His invention of blepharoplasty, or double-eyelid surgery, rapidly gained notoriety and is to this day among the most popular surgeries practiced in Gangnam.
Going Fluid acknowledges these three histories into a bedroom environment constructed from medical and domestic furnitures. A camouflage textile based on a pattern once used by both American and Korean military forces covers all of its constituent parts.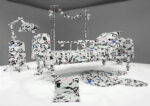 Commissioned by:
The Seoul Museum of Art.
Research:
Yena Ku and Jieun Doe.
Project Manager:
Yena Ku.